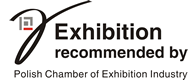 14.09.2016
STONE is the best opportunity to get familiar with various types of stone and take advantage of experts sharing their knowledge and experience in the field.
07.09.2016
The rest meters of area to rent at important and highly successful STONE fair!
02.09.2016
As the largest and most prestigious exhibition event for the stone industry in Central and Eastern Europe, the fair arouses great interest among exhibitors from Poland and abroad.
More news
---

The next edition STONE Fair:
16-19.11.2016, Poznań (Poland)
Międzynarodowe Targi Poznańskie invites you to participate in STONE Industry Fair that will be held between 16-19 November 2016 in Poznań.
The STONE fair is addressed to all those for whom stone is the basis or part of their business, i.e. stoneworkers, but also stone suppliers, architects and representatives of the broadly taken construction industry.
Locating the STONE fair in a modern complex of halls (the so-called "four-pack") will create unlimited exhibiting opportunities and enable further development of this event.
The organiser also plans to prepare a varied fair programme and focus on developing educational activities targeted at architecture and design students.
At the same time GLASS and SAKRALIA Fair will be held on MTP fairgrounds. Combination of these events will result in the synergy effect allowing to reach the widest possible group of professional visitors.