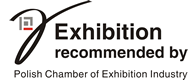 16.12.2016
We kindly invite you to visit Poznań International Fair! Here you will find business contacts, novelties and the chance to develop your passions. In the latest issue of Poznan Fair Magazine "Exhibition calendar 2017" we present trade fair events, organized by the International Fair for almost all industries.
19.11.2016
Four very intense exhibition days are behind us. With the trust that you placed in us as the organisers of the fair, we managed to jointly create a great event dedicated to the stone and glass industries.
18.11.2016
A quick interview with a Brazilian visitor. Special thanks for Mr. Peter Becker for the English language translation.
More news
---

The next edition STONE Fair:
22-25.11.2017, Poznań (Poland)